Go Back
Hudson Brothers VBCBH0616 - 6 Ton Capacity
| | |
| --- | --- |
| Year: | 2020 |
| Manufacturer: | Hudson Brothers |
| Model: | VBCBH0616 - 6 Ton Capacity |
| Type: | Equipment |
| Length: | 16' - 22' |
| Width: | 77" - 96" |
| Axles: | 2 |
| GVWR: | 14790 |
| Fenders: | Diamond Plate |
| Suspension: | (2) 6000 lb w/ Brakes; Double-Eye Spring |
| Wheels: | 16" x 6" Single 8-bolt |
| Coupler: | 25/16" |
| Jack: | 5000 lb. w/Foot |
| Ramp: | Yes |
| Electrical: | DOT LED Sealed Rubber-Mounted W/ conduit |
| Hitch: | Bumper |
Request More Info
Hudson Brothers VBCBH0616 - 6 Ton Capacity
Please enter your contact information and one of our representatives will get back to you with more information.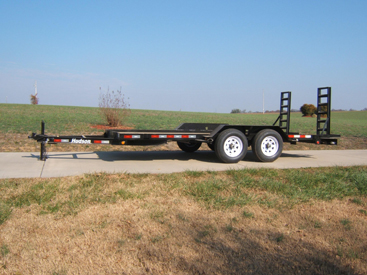 Details
STANDARD SPECIFICATIONS
GVWR: 14,790 lbs.
Empty Weight: 2,790 lbs.
Maximum Payload: 12,000 lbs. W/ adequate hitch load
Overall Length: 22'
Deck Length: 16'
Overall Width: 96"
Deck Width: 77"
Deck Height: 20"
Loading Ramp: 4' Cleated Fully Adjustable
Hitch: Adjustable 2 1/2" Eye
Hitch Height: 15" to 23"
Fenders: Diamond Plate
Axles: (2) 6,000 lb w/ Brakes
Suspension: Multi-Leaf Spring
Brakes: Electric w/ Breakaway
Wheels: 16" x 6" Single 8-bolt
Tires: 7.50-16LT Bias
Jack Capacity: 5,000 lb. w/Foot
Main Frame: 6" x 4" x 3/8" Angle @ 12.3#
Crossmembers: 3" channel @ 3.5#
Decking: 2" X 8" Treated Pine
Tie Downs: Stake Pockets
Lights: DOT Approved Lighting
Colors: Yellow or Black


AVAILABLE OPTIONS
VBCBH0618 - 6 Ton Capacity 18'
VBCBH0620 - 6 Ton Capacity 20'
LTBL - Lockable Toolbox Lid
TBB - Toolbox Bottom
6W102 - 102" wide w/84" between the fenders
JU5KTO7K - 7,000 lb. Jack
2 5/16"HDBH - 2 5/16" HD Ball Hitch (20K Forged)
2 5/16"HDBH - 2 5/16" HD Ball Hitch (20K Jaw Type)
TC - Trickle Charger for break-a-way kit
RU - Radial Upgrade (LT235/80R16")
STR - Spare Tire & Rim
STM - Spare Tire Mount
CO - Colors: Red, Blue, Green, Kubota, & Ditch Witch Orange
Other Recommendations